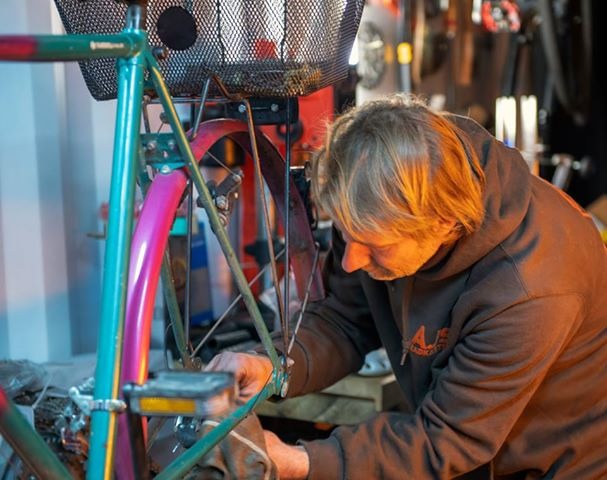 You can bring any bike to have it serviced or looked at regardless if its an old Classic or a mail-order Carbon MTB. We will check, evaluate, take special orders and give you advice if the bike needs an overhaul. We'II take care of major repairs others won't touch and almost always find a solution for the toughest of problems. You work nearby or are reliant on you're wheels? In most cases, small repairs and service can be done on the same day so you can ride home again later!

---
"Almost every problem has a solution, if not ... l get creative!"
---
WE ARE HAPPY TO DO
---
---
Some of our Standard-Services

---
Brakes
---

---
Tires
---

---
Lights
---
---

---
Spokes
---
---
Chain
---
---
Pedals
---

---
Crank
---
---
etc.
---
Munich has so much to offer, be it museums and history or its laid back vibe of beer gardens and parks, all easy to reach along both sides of the Isar River. Of coarse the best way is with one of our Rental bikes, we offer a mixed assortment of Ladies, mens and kids bikes. We also have a few Road bikes or MTBs by enquiry. Whether its a Day trip, or you just need a bike to run some errands, we have you covered. We can cater for up to
20 people
, lf desired bikes can be
delivered and picked up
. For Rentals or any other inquiries, information & reservation, send an
email
or just give us a ring.
from 3 days each additional day € 15,–.
Do not forget a passport or some form of ID!
AJ hat mein neues Fahrrad kurzfristig und innerhalb von einem Tag einmal komplett montiert. Der Preis war angemessen und AJ ist super freundlich. Vielen Dank nochmal und bis zum ersten Service 🙂

Tina-Maria Petkow


8/13/2019

Perfekt. Sehr guter, schneller und vor allem preisg?nstiger Service. Schreibt SMS wenn es zum abholen ist.

Harald Kecht


8/01/2019

Es war eine wahre Freude, nach der Inspektion mein frisch ?berholtes Fahrrad zu fahren!! Der Radkasten hat sich um jedes Detail gek?mmert! Den Termin konnte ich kurzfristig vereinbaren und mein Rad sogar am gleichen Tag wieder abholen! Toll, dass es den Radkasten im Werksviertel gibt! Ich komme wieder!

Christina Marzin


6/17/2019

Super - friendly, expert, fast and reliable service. AJ took care of my older bike and got it back into top shape for a long ride, super fair price and everything well taken care of. Highly recommended.

Arun Sharma


4/25/2019
You're looking for a bike at a decent price? Maybe we have something for you. We offer refurbished 2nd hand and custom built bikes of different types. From a
Ladies Amsterdam bike
to
nostalgic racer
or just an
A to B city cruiser
, depending on availability, you're new favourite bike could be waiting at the Radkasten. lf you have a
special requirement
, let us know, just pop by our shop near Ostbahnhof or give us a ring. lf you have a bike you would like donate or sell, let us know, send an
email
with pics and quote you're price. Everything eise can be negotiated upon closer inspection.
CONTACT
---
Contact us anytime by phone or mail.
---
---
Address:
RADKASTEN
Speicherstraße 10 (at Werksviertel)
81671 Munich
---
email:

---
Give us a call:
+49 177 6383734‬
---
Business hours:
Monday
10 am – 7 pm
Tuesday
10 am– 7 pm
Wednesday
closed
Thursday
10 am – 7 pm
Friday
10 am – 7 pm
Saturday
2 pm – 7 pm
Sunday
closed